What's New Around the Theater?
---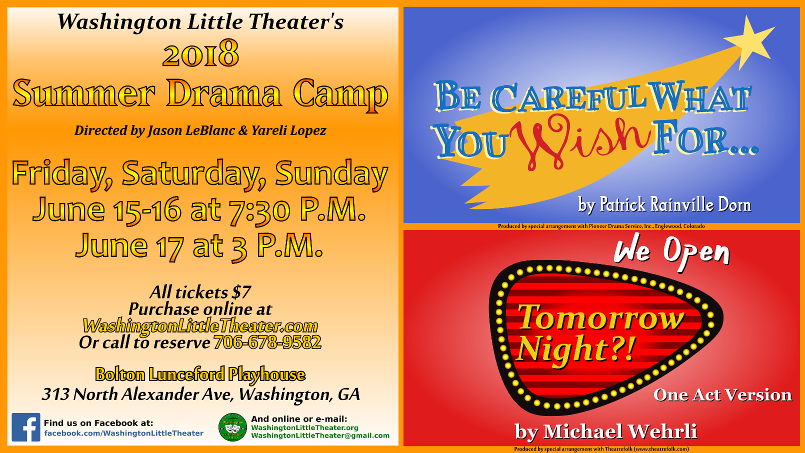 After working hard for two weeks learning theatre skills and rehearsing their own productions, our drama campers will show us what they've learned with three performances.

Senior Campers: We Open Tomorrow Night?!
It's the dress rehearsal for the student-run talent show and things aren't running smoothly. The PTA mom is being very pushy. The British act can't get a grip on the accent. Ian wants to air guitar on pogo sticks, and what happened to the lights? As they say, the show must go on!

Young Campers: Be Careful What You Wish For...
Receiving your heart's desire can sometimes have unexpected, comical results! Four magical wish givers teach apprentices about instances of wishes gone amiss, where the recipients of the wishes ended up preferring things as they were before the wish was ever granted. Action-packed, classic tales from Russia, Japan, France, and Germany come to lighthearted life in this ensemble show. A nearsighted gardener learns that some things are best not seen too clearly. A hard-headed stonecutter aspires to become the most powerful thing in the world and learns about power in the process. A house-hungry fisherman's wife allows her greed to push upward mobility a bit too far, and a sausage-savoring woodcutter's wife nearly cuts off her husband's nose to spite his face.
Performances will be held June 15, 16, and 17 at our standard performance times.
---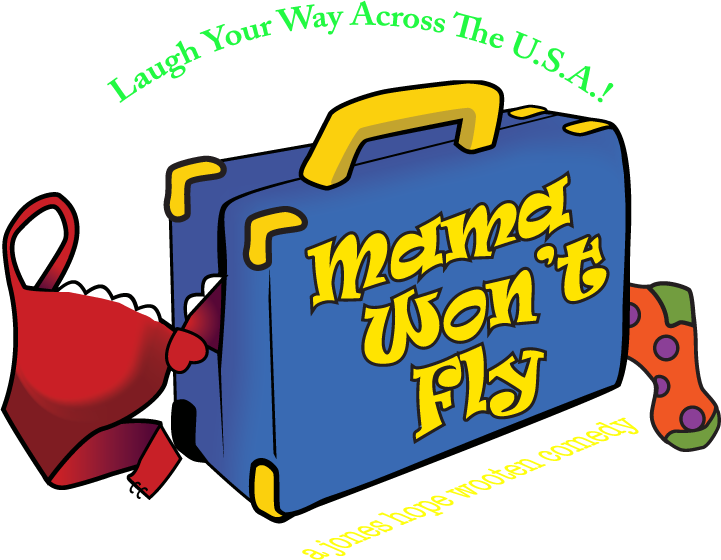 The Washington Little Theater's 2018 summer comedy will be Mama Won't Fly. Mama Won't Fly is a hilarious race against the clock for Savannah Sprunt Fairchild to get her feisty mother, Norleen Sprunt, all the way from Alabama to California for her brother's wedding. Only problem is, as the title implies, Mama won't fly. With only four days to make it to California, Savannah has no choice but to partake in a mad dash across the country. To complicate matters, the naive bride-to- be thinks it would be a good bonding experience to join in on the journey.
The play is being directed by Tonya Harper with Libby Foster as assistant director. Play performances are scheduled for the first two weekends in August. (3rd-5th and 10-11th)
---
ENTERTAINING AUDIENCES FOR MORE THAN 40 YEARS!

For over four decades, the Washington Little Theater has been entertaining audiences with quality dramatic, musical and operatic performances for people of all ages, making it one of the longest running community theaters in the state of Georgia.

In addition to a full schedule of traditional live theater productions, the Washington Little Theater also offers an annual Summer Drama Camp for children ages 8-18 in June, as well as a children's theater production geared towards local school children every September.

The theater also works closely with the Washington-Wilkes Arts Foundation and the Washington-Wilkes Historical Foundation to bring a variety of traveling shows, lectures, workshops and musical performances to the community throughout the year.
A HISTORIC THEATER IN A HISTORIC SETTING

Vistors often refer to our small historic Southern town as something out of an old movie or a retro television show. References to the rural town of Andy Griffith's Mayberry, the dramatic landscapes of Gone With the Wind or the idyllic charm of Bedford Falls in It's a Wonderful Life, the City of Washington is a charming postcard town full of gorgeous old houses, tree lined streets and a quaint downtown square.

Likewise, the Bolton Lunceford Playhouse sits proudly among the historic North Alexander School complex, which dates back to the 1890's. Originally, the Playhouse was the school gymnasium. While public and private efforts are currently underway to rennovate the school buildings, the Bolton Lunceford Playhouse and the members of the Washington Little Theater Company continue to act as beacons for this educational complex.

The Playhouse is located within a five block walk from Washington's downtown square. Unique shopping and dining experiences on the square, combined with a live theater production, make for a fun evening out! Occasionally the theater will team up with area businesses to offer special promotions and discounts. Be sure to check out the season calendar for a complete list of theater events.

Click here for directions Click hear to Contact us by email


Read more about the origins of the Washington Little Theater Company on the about us page.